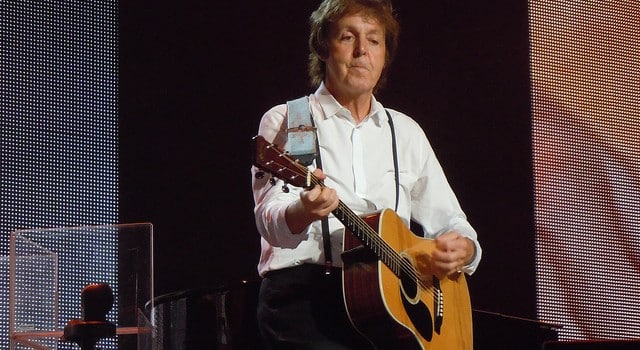 Paul McCartney recently performed with Bob Weir of The Grateful Dead at one of his shows.During a gig at Fenway Park in Boston, Weir joined McCartney onstage as they performed two songs together.
Weir and Paul McCartney performed Wings' 'Hi,Hi,Hi' and The Beatles classic 'Helter Skelter' together. The two of them were also joined onstage by American footballer Rob Gronkowski for The Beatles number.
You can see an image of Paul McCartney and The Grateful Dead's Bob Weir performing together down below. Although the two bands never collaborated there is a mutual admiration between the two.
Paul and Bob Weir get it on at Fenway Park, Boston.
Grateful Beatle! pic.twitter.com/Bdg56zefQY

— Paul McCartney (@PaulMcCartney) July 18, 2016
The Grateful Dead were known to cover The Beatles during their shows and Jerry Garcia even covered John Lennon's solo classic 'Imagine' back in the '70s at his gigs.
Paul McCartney played a mammoth 39-song set during his gig at Fenway Park. He will continue his current tour of North America with a gig in Hersheypark Stadium tomorrow night.
You can check out a clip down below of Paul McCartney performing the classic Beatles song 'Helter Skelter' with Bob Weir.
.@RobGronkowski joined @PaulMcCartney on stage at Fenway for "Helter Skelter" pic.twitter.com/v8KN8SDYbk

— WEEI (@WEEI) July 18, 2016
Photo Credit: Chuck