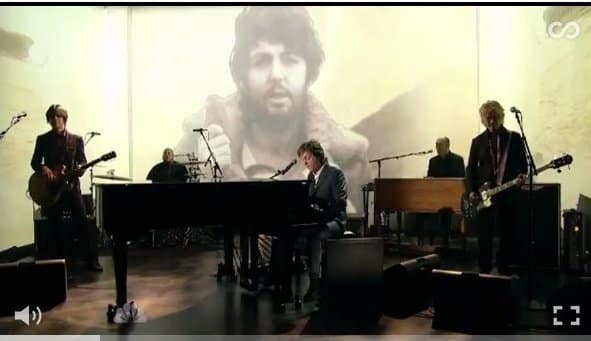 Paul McCartney appeared on 'Saturday Night Live's' 40th anniversary show last night, performing a fantastic live version of 'Maybe I'm Amazed'.
The song appeared on his debut solo album McCartney. It was written about his wife Linda, who helped him through the rocky break-up of the Beatles.
The 40th anniversary show was a star studded event that included guest appearances from Robert De Niro, Eddie Murphy, Will Ferrell, Alec Baldwin, Chris Rock,  Jack Nicholson and Bill Murray.
Macca was introduced by another rock legend, the Rolling Stone's guitarist Keith Richards. Keith quipped: "In the early Sixties a band came out of England and it changed the world But enough about the Rolling Stones: Ladies and gentlemen, Paul McCartney."
McCartney sitting at a piano, then broke into a heart-felt version of 'Maybe I'm Amazed'. Watch it below.
Not only did the Liverpudlian play a solo performance, he broke into a duet with Paul Simon, playing Beatles song 'I've Just Seen a Face', from the 1965 album Help.