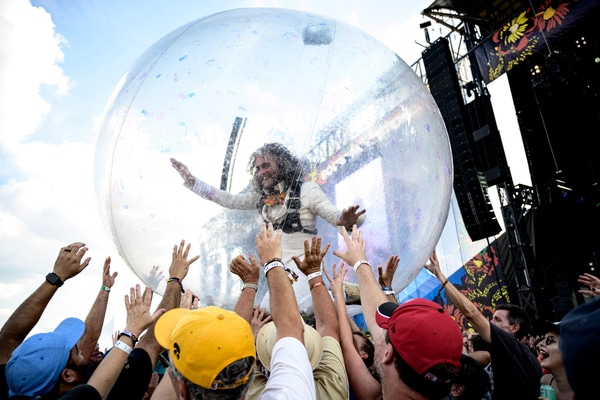 The Flaming Lips lead singer, Wayne Coyne has declared to be the first band to perform in outer space. The She Don't Use Jelly singer has been fishing for fellow space enthusiast, Elon Musk to make his wish come through.
No strangers to the unconventional, the psychedelic rockers recently performed a 4/20 space 'bubble' concert, promoting their branded weed gummies. The band first held a space bubble concert in Oklahoma, earlier this year, and concert goers were given their own bubble which could hold up to three people. An estimated 100 bubbles were in attendance of the concert, which was considered to be a coronavirus safe free gig.
As if that was not wonderful enough, the band aim to outdo themselves further, at a venue out of this world. Speaking on Audacy with host, Bryce Segall, Wayne discussed the band's "next big idea", revealing he wants The Flaming Lips to be the first band to play in space.
Such a remarkable event would surely come at a cost, meaning the band would need heavy investment to accomplish the feat. As a result, Wayne explains his hope for a 'sugar daddy' tycoon like Elon Musk to be the man to make his dreams a possibility.
"I still hold out hope with the likes of an Elon Musk being out there… I love him," Wayne fished. "I think he's cool and I think he's got big ideas that are actually working. We've always said that we want to be the first band to play on the International Space Station, and I feel like to even say that on your show, he might be listening."
Although, some might think that Wayne has not completely thought this quest through, as his enthusiasm seems to quickly wane once he considers the reality of his aspiration.
"Oh my gosh, would we really have to be shot into space? It would be the scariest thing ever".
Unless the almighty Musk can come up with an invention which allows planetary teleportation, we're not sure the Flaming Lips vocalist has much choice in the matter.
"I hope it happens on an ideal level, but I'm scared that it actually could happen on another level. But I still have that dream".
Listen to the full conversation below: