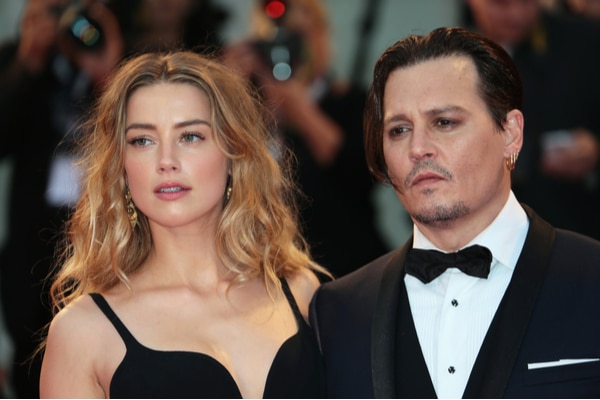 Amber Heard has shared further details on the "disgusting" abuse she allegedly suffered at the hands of her ex husband Johnny Depp.
Amber Heard is being sued by Johnny Depp over an article which was written in the Washington Post in 2018.
The article implies that Johnny Depp sexually and physically abused his ex wife during their marriage. The couple got married in 2015, before divorcing in 2017.
Depp has always denied abusing Ms Heard, insisting that his ex wife was the abusive spouse during their relationship.
Depp also said that these allegations cost him "everything".
"When the allegations were rapidly circling the globe, telling people that I was a drunken cocaine-fuelled menace who beat women – suddenly in my 50s – it's over",  Depp also said. More on this here.
"something was wrong"
During Ms Heard's testimony, audio clips were played to the court of an alleged incident which took place in May 2014.
Ms Heard claimed that her husband kicked her in the back, as well as threw "ice cubes and utensils" at her. She also claimed that she moved several steps away from him, but he allegedly sat in front of her, before slapping her.
Ms Heard claimed that when she watched Mr Depp walk onto the plane, she "knew every cell of my body that something was wrong". 
"He reeks of weed and alcohol, and his breath smelled so bad. I could anticipate there was a no-win situation here", Ms Heard told the court.
"He was saying really disgusting things about my body … and then he started straight up insulting me. And this is happening in front of everyone". 
"I walk away from him, my back is turned and I feel this boot in my back. He just kicked me in the back", she added. "I fell to the floor and it felt like I was looking at the floor of the plane for a long time".
"No-one said anything, no-one did anything, you could hear a pin drop on that plane, you could feel the tension". 
Amber Heard also claimed that Johnny Depp once performed a "cavity search" on her.
The actress had earlier claimed that her ex husband had "slapped" her in the face after she joked about the writing style of one of his tattoos.