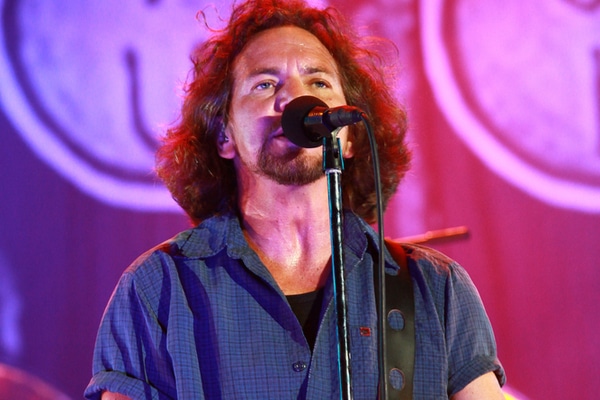 Eddie Vedder has shared his latest single "Long Way". The track gives fans the first taste of the Pearl Jam frontman's upcoming solo album "Earthling".
This album also marks Vedder's first collaboration with 2021 Grammy winning producer Andrew Watt.
"Earthling" is to be released via Seattle Surf/Republic.
"Long Way"
This new track sees Vedder channeling his inner Tom Petty over an arrangement inspired by 80s heartland rock theatrics. This video also includes fiery guitar solos and buzzing organs.
"His eyes appear vacant / he'd taken more than his share / trying hard to awaken / the voice of regret in his ear", Vedder sings in the opening verse of the track.
Check it out here.
While a release date has yet to be confirmed, "Earthling" can be pre ordered here. You can buy a 7 inch vinyl featuring "Long Way" with a B-side titled The Haves.
Vedder had previously hinted about this "soon to be released" material via Instagram recently. 
Olivia Vedder
Last month saw the Pearl Jam frontman's daughter Olivia Vedder release a track "My Father's Daughter" for the Sean Penn starring "Flag Day". 
The soundtrack sees Olivia sing about strong familial ties, "They asked if I had seen you/But I've got no truck with men/Like them, they can go to hell/I am my father's daughter/Come hell or high water". 
The track was co-written by Eddie Vedder and Glen Hansard. Vedder and Hansard also worked on a further eight songs for the soundtrack.
"After this flood of gorgeous songs from Cat Power, Glen Hansard, and Eddie Vedder, we were just about to do a final mix on the film when Ed sent me Olivia singing 'My Father's Daughter.' It became just the perfect cherry on top of the sundae", Sean Penn said in a statement.
More on this report from Nova here.
August also saw Eddie team up with Tom Morello and Bruce Springsteen for a cover of AC/DC's Highway To Hell. 
The singer is to also feature on Elton John's upcoming album "The Lockdown Sessions".