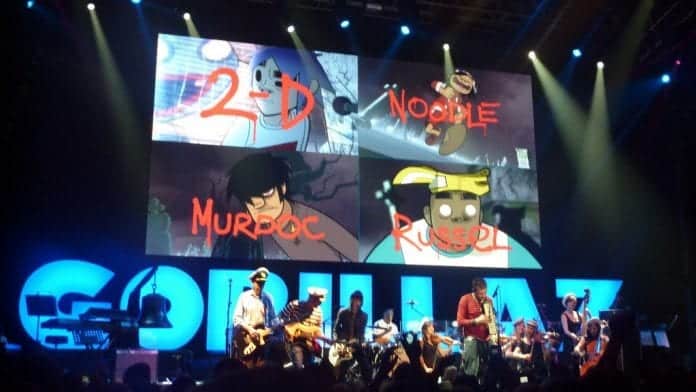 Co-creator of the virtual band Gorillaz, Jamie Hewlett celebrates his 49th birthday today.
Brought up in Sussex, Hewlett started his career with Deadline magazine.
Deadline was set up in 1988 by Brett Ewins and featured a mixture of comic strips produced by British creators, and articles on music and culture. Martin and Hewlett with his friend, Alan Martin, created Tank Girl, an anarchic strip about a teenage punk girl who drove a tank and had a mutant kangaroo for a boyfriend. The strip was a hit and quickly became the most talked about part of Deadline. Hewlett's eccentric style proved popular and he started to work with bands such as Senseless Things and Cud providing covers for record releases; he also contributed artwork sporadically to Commodore User magazine.
Deadline was eventually cancelled in 1996 and Hewlett concentrated on working in advertising and designs for television, most notably the children's series SMTV Live, featuring Ant & Dec.
Hewlett was still involved with British bands of the mid-1990s, including illustrating a comic strip version of Pulp's's song 'Common People'.
At this time, he had moved into a flat with Blur's Damon Albarn who he'd met in 1990 when Blur guitarist Coxon, a fan of Hewett's work asked him to interview the group. The interview was published in Deadline magazine and the pair remained friends. It was while sharing the flat that the pair came up with the idea of Gorrillaz, a virtual band. Albarn would work on the music, while Hewlett would come up with character designs, and both came up with ideas for the members of the band. The first Gorillaz EP was released in 2000 followed by the first album, Gorillaz in 2001.
The band's music is a collaboration between various musicians, Albarn being the only permanent musical contributor.The band's 2001 debut album Gorillaz sold over seven million copies and earned them an entry in the Guinness Book of World Records as the Most Successful Virtual Band.
Gorillaz recently announced new album Humanz, which will be released on April 28. So far, they've aired four songs from the record: 'Saturnz Barz', 'Andromeda', 'We Got The Power' and 'Ascension'.
Ahead of the release of that record on April 28, Gorillaz have now shared a new remix of 'Saturn Barz', which features guest vocals from Jamaican artist Popcaan. Canadian production duo Banx & Ranx are behind the new version, which debuted on MistaJam's BBC Radio 1 show on Saturday night (April 1)
The recently released virtual reality video for the original version of 'Saturn Barz' last week broke YouTube records as it became the most-viewed debut of a VR video. The video was viewed more than three million times in its first 48 hours and has now been watched almost 6 million times. The clip features a haunted house and pizza floating in space.
Gorillaz will make their return to the live arena thsi summer. The band announced their own Demon Dayz Festival recently which will take place at the Kent theme park Dreamland in Margate on June 10. The full line-up is still to be announced.
Gorillaz will also play their first North American Show for seven years in July.
Picture Credit: wonker