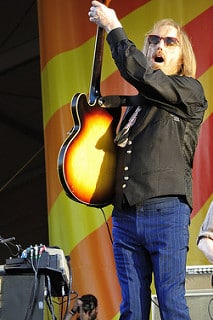 In 1999, the Floridian rockers were honoured at the famous landmark in Los Angeles for their decades of contribution to Rock's catalogue.
They joined the likes of Chuck Berry, Johnny Cash Grace Kelly and President Donald Trump (who knew he had a star on the Hollywood Walk of Fame!)
Tom Petty and the Heartbreakers first got together in 1976 with the original line-up of Tom Petty as the lead singer and guitar player, Mike Campbell as the lead guitarist, Ron Blair on bass, Stan Lynch on drums, and Benmont Tench on keyboards. They were on the forefront of heartland rock when they hit the scene. They were in good company too. Around that time Bruce Springsteen and Bob Seger were also making waves so conditions were prime for Tom Petty and the Heartbreakers' commercial success.
Their classic rock sound and hit singles such as 'American Girl', 'Breakdown', 'The Waiting', 'Learning to Fly', 'Refugee' and 'Mary Jame's Last Dance' contributed to cementing their greatness.
In 1985, they participated in the world-spanning charity rock concert Live Aid; they also dueted with Stevie Nicks and toured with the legend that is Bob Dylan. Together they released 13 studio albums.
Although most of their material is produced and performed under the name "The Heartbreakers", Petty has also released three solo albums, the most successful being 1989's Full Moon Fever. In these releases, members of the band contributed as collaborators, producing and performing as studio musicians. In his career, Petty has sold more than 80 million records worldwide, making him one of the best-selling music artists of all time. In 2002 he was inducted into the Rock and Roll Hall of Fame and this past February, he was honoured as the 2017 MusiCares Person of the Year at a tribute concert.
The band are currently on their 40th anniversary tour which just kicked off a few days ago. They are set to play a string of dates across the United States.
Picture Credit: Takahiro Kyono