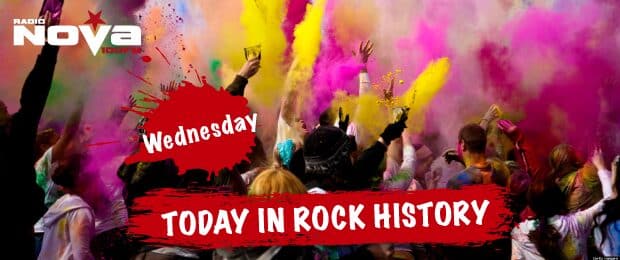 It's important to know your rock history, here at Radio NOVA we bring you ten rock stories from the sixties, seventies, eighties, nineties and the noughties.
On this day in rock history: October 22nd.
1964: The High Numbers receive a letter from EMI Records, asking them for original material after their recent audition for the company, they went on to change their name to The Who.
1966: The Supremes became the first female group to have a number 1 album on the US charts with The Supremes a Go Go, knocking The Beatles' Revolver, from the top of the charts.
1966, The Beach Boys 'Good Vibrations' made its debut on the US singles chart. Written by Brian Wilson and Mike Love, the track was recorded over 6 weeks in four different Los Angeles studios, at a cost of over €12,600. It reached the number 1 spot on Decmeber 1966.
1990: Pearl Jam played their first ever concert when they appeared at the Off Ramp in Seattle.
1993: Oasis signed a six-album deal with Creation Records for a €50,000 advance.
1996: Apple announces that The Beatles have sold an unprecedented 19 million albums this year as a result of the Anthology release, with 41% of those sales, according to polls, going to fans who weren't even born when the group broke up.
1999: It was reported that Sinead O'Connor was attempting to buy the church where she was ordained into the Catholic sisterhood. The church was on the market for €88,000.
2000: George Michael pays almost  €1.9 million for John Lennon's famous upright Steinway piano, on which the ex-Beatle wrote the iconic 'Imagine.' Michael issued a statement saying, in part, "I know that when my fingers touch the keys of that Steinway, I will feel truly blessed." He outbid Robbie Williams and The Oasis brothers.
2003: American singer-songwriter Elliot Smith, committed suicide aged 34.
2008: A homeless man claimed a €2,500 reward by returning a waxwork head of Paul McCartney which had been left on a train. Anthony Silva found the item in a bin at Reading station after auctioneer Joby Carter left it under a seat at Maidenhead station. The homeless man thought it was a Halloween mask and had been using it as a pillow before realising what it was. The wax model sold the following week for €7,00 at auction.