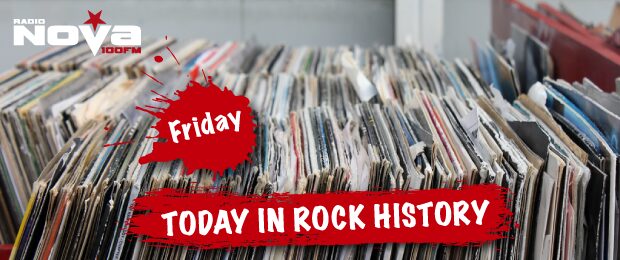 It's important to know your rock history, here at Radio NOVA we bring you ten rock stories from the sixties, seventies, eighties, nineties and the noughties.
On this day in rock history: October 24th.
1962: Soul singer James Brown recorded his legendary 'Live At The Apollo' album. The LP was listed at number 24 in Rolling Stone magazine's 2003 list of the 500 greatest albums of all time.
1970: Pink Floyd went to number 1 on the UK album chart with the Atom Heart Mother, the group's first number 1. The LP cover shows a cow standing in a pasture with no text.
1973: John Lennon sues the US government, accusing them of tapping his telephone.
1977: The controversial biopic 'The Buddy Holly Story', starring Gary Busey as the legendary rocker, begins filming in Hollywood.
1978: The Rolling Stones' guitarist Keith Richards pleads guilty to heroin possession in Toronto, Canada and is given a one-year suspended sentence. The Stones are also ordered to play a gig for charity.
1980: The Guinness Book of World Records presents Paul McCartney with a special rhodium album for being the best-selling songwriter in the history of recorded music, having written 43 platinum songs and sold over 100 million records.
1998: Former Stone Roses lead singer Ian Brown was jailed for 4 months after being found guilty of disorderly behaviour during a flight from Paris to Manchester. Brown had threatened to chop the hands off an air stewardess during a heated exchange.
2004: Queen became the first rock act to receive an official seal of approval in Iran. Western music is still strictly censored in the Islamic republic, but Queen's greatest hits was released this week in Iran. Freddie Mercury, was proud of his Iranian ancestry, and illegal bootleg albums and singles had made Queen one of the most popular bands in Iran.
2006: Forbes.com revealed that Kurt Cobain had overtaken Elvis Presley as the highest earning dead celebrity. Cobain's work earned €40 million in the 12 months to October 2006, compared with Presley's €33 million. Former Beatle John Lennon earned €28 million.
2007: A judge removed a drug treatment order for singer Pete Doherty when he appeared at Thames Magistrates' Court. Judge Jane McIvor told the singer she was going to revoke the six months left to serve on the order after advice from experts.