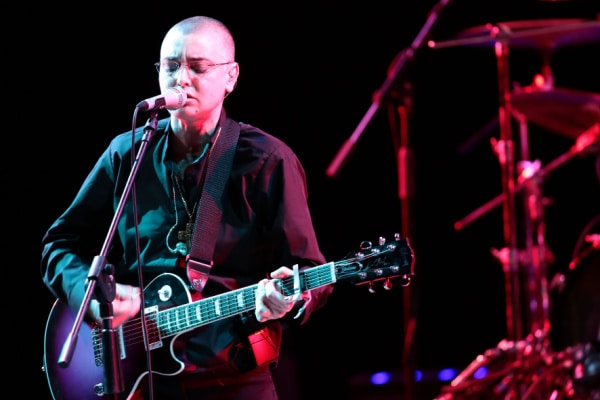 Would you like to listen to the article instead of reading it?
Over the weekend, fans gathered around Dublin to sing 'Nothing Compares 2 U' in a sweet tribute to Sinéad O'Connor.
The singer passed away last week aged 56, after being found unresponsive at her home in London. She was pronounced dead at the scene.
"Police were called at 11.18am on Wednesday 26 July to reports of an unresponsive woman at a residential address in the SE24 area", the police said. "Officers attended. A 56-year-old woman was pronounced dead at the scene".
A coroner also added that they found "no medical cause" was found for O'Connor's death.
"No medical cause of death was given. The coroner therefore directed an autopsy to be conducted. The results of this may not available for several weeks. The decision whether an inquest will be needed will be decided when these results are known and submissions have been heard from the family", the coroner's report reads.
They also added, "If an inquest is to be opened, the date of the brief public hearing will be provided on our website".
Fans Celebrate O'Connor Track 'Nothing Compares 2 U'
Yesterday (July 31), fans gathered around Dublin's City Hall to pay a sweet tribute to Sinéad O'Connor to sing her track 'Nothing Compares 2 U'.
The song which was originally written by Prince, propelled O'Connor to international superstardom, winning several Grammy Awards following her cover in 1991.
The track was written by Prince for his side project the Family, and eventually became her famous track.
Check out footage of this performance below.
Dozens gather by Dublin's City Hall to pay tribute to the music and activism of Sinead O'Connor. Many were emotional in the crowd as they sang "Nothing Compares to You" @VirginMediaNews pic.twitter.com/nDyIu2EcOo

— Mairéad Cleary (@maireadcleary7) July 30, 2023
This performance in the capital comes as Alanis Morissette and Foo Fighters also honoured Sinéad O'Connor with a cover of another of her tunes 'Mandinka', which featured on the Irish singer's 1987 debut album 'The Line And The Cobra'.
"So tonight, we're gonna do something that we've never done before, with someone that we love very much. We want an old friend to come up and sing with us tonight for a very special reason. Ladies and gentlemen, would you please welcome, to sing a song with us: miss Alanis Morissette", Foo Fighters' Dave Grohl told the audience before he introduced Morissette to the stage.
Check out this performance here.
Fans have also been sharing the late singer's cover of Nirvana's 'All Apologies'. See here.