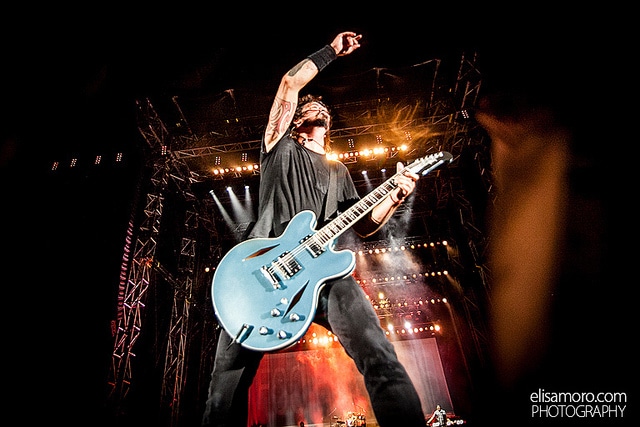 Foo Fighters' frontman Dave Grohl has speculated that there could be a second series of their very impressive 'Sonic Highways' television show.
Uproxx.com reports that the singer told The Daily Show that there is a chance the music documentary series could return.
When Grohl was being questioned by the show's host John Stewart, he pointed out that there are more than eight cities to visit in the country.
Dave acted very coy replying: "There might be a Season Two".
The final two episodes of 'Sonic Highways' just aired last night (Sunday 7th December) on BBC Four.
In the series, the American rockers documented the making of their new studio album also titled Sonic Highways.
Dave Grohl directs the miniseries, each episode takes place in a different city, Chicago, Austin, Nashville, Los Angeles, Seattle, New Orleans, Washington D.C. and New York.
The documentary explores the musical significance of each city, its musical characters and chronicles the importance of each music studio they record in.
In each city the band record one song with a local legend. Featured in the series are, Fugazi, Paul Stanley (Kiss), Joe Walsh (The Eagles), Arcade Fire and President Obama.
Grohl even held off writing lyrics until the last day of each session, so he could soak in the experiences, interviews and personalities that became part of the process.
The Foo Fighters frontman says the series is a "love letter to the history of American music." Each episode explores the unique identity of the musicians and identifies how the city they were raised in influenced their musical sound.
Watch the trailer below.