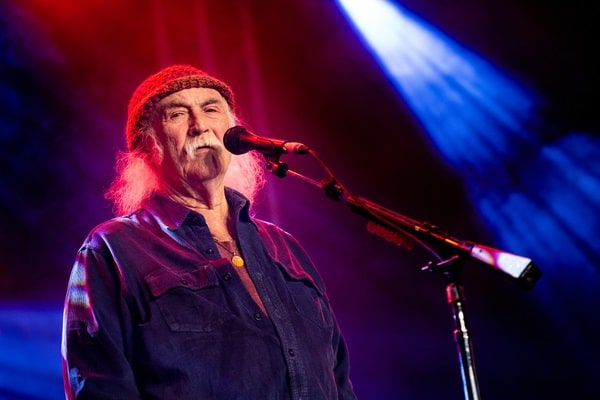 Would you like to listen to the article instead of reading it?
Graham Nash has claimed that his former bandmate David Crosby died after contracting Covid-19 for the second time.
Crosby who was a former band member of Crosby, Stills & Nash, died following a "long illness" back in January, according to his wife Jan Dance.
"It is with great sadness after a long illness, that our beloved David (Croz) Crosby has passed away. He was lovingly surrounded by his wife and soulmate Jan and son Django", she said.
She continued, "Although he is no longer here with us, his humanity and kind soul will continue to guide and inspire us. His legacy will continue to live on through his legendary music". 
"Peace, love, and harmony to all who knew David and those he touched. We will miss him dearly. At this time, we respectfully and kindly ask for privacy as we grieve and try to deal with our profound loss. Thank you for the love and prayers". 
"that is fantastic"
While no cause of death was revealed at the time, Graham Nash a former bandmate of Crosby's from Crosby, Stills & Nash, claimed that he died after contracting Covid-19.
"He was rehearsing for a show to do in Los Angeles with a full band," Nash claimed.
"After three days of rehearsals, he felt a little sick. And he'd already had COVID, and he had COVID again", he also added. "And so he went home and decided that he would take a nap, and he never woke up. But he died in his bed, and that is fantastic". 
While insisting that Crosby's longevity was "astonishing", Crosby called his death a "shock". 
"The fact that he made it to 81 was astonishing", he stated. "It was kind of like an earthquake, you know? You get the initial shock and then you figure out that you survived. But these aftershocks keep coming up, and they're diminishing in size as I go along". 
Despite having several high profile bust ups during the time as a band, Graham Nash paid an emotional tribute to Crosby.
"I know people tend to focus on how volatile our relationship has been at times, but what has always mattered to David and me more than anything was the pure joy of the music we created together, the sound we discovered with one another, and the deep friendship we shared over all these many long years. David was fearless in life and in music, he wrote back in January.
Check it out here.
Back in January, guitarist Steve Postell who collaborated with David Crosby, claimed that the late musician was working on a new album at the time of his death. More on this here.