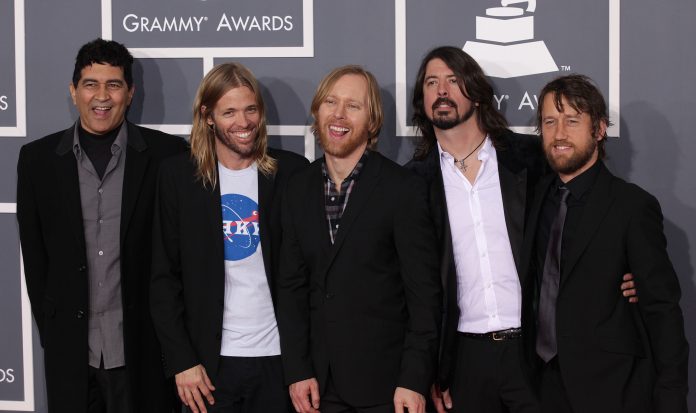 Foo Fighters frontman, Dave Grohl revealed that drummer Taylor Hawkins left US Chart-topping Alanis Morissette's band to join his band.
Grohl admitted his suprise at such a bold move at the time, given the high profile band that Hawkins was drumming with already.
"I thought he would never leave Alanis's band. At the time, they were packing stadiums around the world", Grohl admitted.
He also added, "And what, he's going to jump in our red Dodge van and play the f***ing Viper Room again? But within the community of musicians, especially in Los Angeles, there's a Rolodex that goes around". 
"I heard you guys are out of a drummer right now"
Hawkins himself revealed that the move came about when Grohl got in touch with him, looking for a replacement drummer.
"Here's what happened!" Hawkins said. "I had met Dave and Nate and Pat and William, the original drummer, on the road with Alanis Morissette, because that's who I was playing with when the first Foo Fighters record (1995's self-titled) came out. And I loved that record. I still love it!".
Hawkins continued, "So I didn't really ever think there was going to be an opening. Never. Nor did I necessarily think I was the right drummer. But I did love the music so much".
"But I heard that the Foo Fighters' drummer had quit and they're looking, so I called a friend who knew Dave; this was before cell phones".
The drummer also added, "I got ahold of his number and I said, 'Hey, I heard you guys are out of a drummer right now". 
"And Dave said, 'Yeah. Do you have any good recommendations?' And I was like, 'Well how about me you a**hole?". 
"That's all I need to f***ing hear"- Grohl on Hawkins
Dave Grohl added that it only took him three seconds to decide that Hawkins was the drummer for Foo Fighters.
He said, "I went over to his little house in Topanga Canyon, he sat down and played for three seconds, and the first time he hit a snare drum, I knew it. I swear to God".
"I was like, 'That's all I need to f***ing hear. I love you as a person. You've just given me hearing damage for the rest of my life in three seconds. You have to be in the band'".
Grohl also admitted recently that he prefers playing the drums himself.
"I feel most comfortable behind the drums. I mean, being the lead singer of a band I actually feel kind of uncomfortable. I like doing it, and the challenge and the fear is one of the things that I like about it. But playing the drums, it's like I just feel totally comfortable doing it. I don't really worry that, y'know, I'm not gonna be able to do what I'm supposed to do".
Grohl was the former drummer of Nirvana until frontman Kurt Cobain's death in 1994. You can catch what Grohl had to say about Cobain here.
You can hear more from Foo Fighters on by tuning in every Saturday at 6pm on Nova!