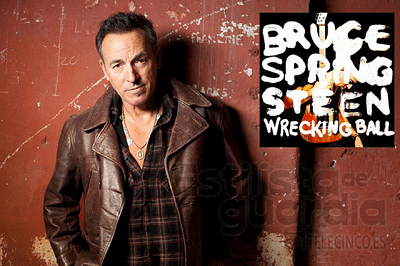 The Boss turns 65 years-old today but he definitely doesn't look it. And to celebrate, Radio NOVA will be playing his iconic album Born To Run in full tonight.
His musical breakthrough came nearly 40 years ago with Born To Run, and nearly 40 years on, Bruce Springsteen is still one of the most revered musicians in the world.
Born in 1949, Bruce Frederick Joseph Springsteen, of Irish, Dutch, and Italian ancestry, was raised in the working-class town of Freehold, New Jersey. He was inspired by watching Elvis Presley on the Ed Sullivan Show as a young boy, and decided to take up the guitar.
After initially struggling for mainstream attention, he put out a little album, maybe you've heard of it, Born To Run. Released in 1975, it catapulted Springsteen from relative unknown to instant critical and commercial success. Rolling Stone magazine wrote, "I've seen rock 'n' roll's future, and its name is Bruce Springsteen."
In 1984, he put out the massively successful Born In The USA. Selling over 30 million copies worldwide, the record won multiple Grammys, American Music Awards and MTV Music Video Awards.
By this stage, the secret was definitely out about his electric and charismatic live performances. The Boss drew over 100,000 adoring fans to his 1985 Slane Castle gig. Possibly the second largest gathering at the time, after Pope John Paul's visit in 1979.
Springsteen at 65 is in many ways an artist at the peak of his powers. His contemporaries might be able to compete with Bruce for drawing a crowd but he is still having phenomenal success with each new record he puts out. His last four albums, Magic (2007), Working on a Dream (2009), Wrecking Ball (2012) and High Hopes (January), all debuted at No. 1 on Billboard's album chart.
NPR critic, Eric Deggans said, "What he's doing is an amazing feat. He's in uncharted territory in the music industry. I feel some other bands of comparable stature, like the Rolling Stones, tried to keep commercially relevant past the point it was possible for them. They used their records as a commercial force on the onset of a tour when it was obvious it wasn't their gig anymore."
Speaking to Rolling Stone earlier his year The Boss said, "It's the old story that 'the light from the oncoming train focuses the mind. There's a little bit of that, in (that) you go, 'I have all this material, and I sort of released less than I would have liked to.' It did focus the music well. Certainly, in the 1990s, I look back and think, 'Sometimes I'm not satisfied completely with something. Sometimes that's not necessarily a reason to not release it.' There are things that are just interesting on their own and they come out on their own terms."
At the stage in his life when Irish people generally retire from working, Springsteen's legacy and body of work continues to grow in stature, instead of fading away, he continues to burn brighter.
Radio NOVA will be playing his phenomenal Born To Run record tonight (September 23rd) on the Classic Album at Midnight.