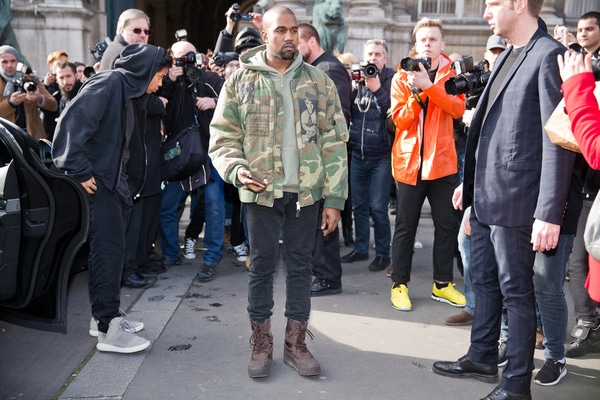 Kanye West has opened up about his ongoing battles with mental health. The rapper also spoke about his frustrations over the popular opinion that he is "crazy".
Kanye West also recently legally changed his name to Ye, after his application was approved by a court in LA.
"all on the spectrum"
Speaking to the Drink Chimps Podcast, which lasted for three and half hours, Kanye West said "We all are on the spectrum somewhere".  
Referring to his bipolar diagnosis, the rapper added, "just only of us went to the hospital or have been diagnosed (with a disorder, or prescribed) medication". 
The rapper then spoke about an altercation he had with the paparazzi when dating Amber Rose.
"When I slammed that paparazzi that day, they made me go to anger management", he stated. "I'm sitting there with Amber Rose at the anger management situation, and the anger management coach just keeps on hitting on Amber, and then giving me some medication". 
"The snowball"
Referring to this medication cycle as "the snowball" that subsequently led to his bipolar diagnosis. Kanye West hit out at people who brush aside this disorder and continue to mock and belittle him.
"There's a lot of people who will say, 'I don't believe that you are actually bipolar", he said. And anytime somebody wants to say that I'm wrong about something, hide the truth (or) lie, they say, 'Ye's crazy.' It's just the ultimate final cut-off to not have to listen". 
Kanye West claimed that the word "crazy" is often used to dismiss potentially uncomfortable conversations.
He also compared "a phobia of things with mental health" to sexism, racism and homophobia.
"You crazy"
West whose DONDA album reached one billion Spotify streams last month, also said he has often been met with the response "you crazy" to his political views, fashion choices, presidential campaign and even his haircuts.
"OK, I'm crazy, but what y'all gonna do about it? All this shit over with now", he would say as a retort.
Kanye West also emphasised that he is taking control of his mental health battle.
He said, "Y'all not gonna diminish what I'm doing, and what God is doing with me in the future, by trying to cut my legs off or cut my influence off by calling me crazy". 
The rapper continued, "That don't work. You're not gonna say anything like, 'You need your meds, you're not in your best mental state right now.' No, I know what's going on, and I'm not having it. I'm Buffalo Bill – I'm one of them characters from the movie! You know back, in the days – think about There Will Be Blood, man, they weren't having it". 
"I'm not having none of it, from nobody, ever, period, on my life, bro, on my mama, on God – I'm not having nothing. Period. This the truth. We're gonna have to deal with the truth because we can't build communities of off lies. We got to build communities off of a foundation. We build our foundation on a truth. Only the truth will set us free". 
Kanye West also recently defended his inclusion of controversial rocker Marilyn Manson on his livestream event.