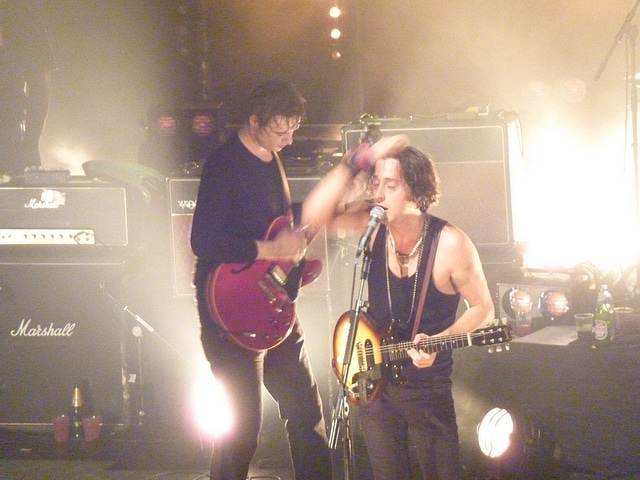 British rockers The Libertines are not only making a new album, they've announced that they're releasing a new documentary.
The movie is all about the band's lazarus like comeback, charting their progression and their most recent tour.
The short film is directed by Roger Sargent, who previously worked with the likely lads on a documentary about the band's 2010 reunion, titled 'Libertines: There Are No Innocent Bystanders', that was released in 2011.
Over the past week, the Libertines have been posting a series of vague quotes and old photos on their various social media sites. The cryptic teasers included lines such as "We're on a journey; that journey is good ship Albion…", "I know Carl cares deeply, really about what we achieved," and "The greatest achievement I've done, basically, needs me to be entwined with him…"
Today the likely lads revealed the secret behind all the photos and quotes, they're taken from a "wonderful" short film about the band by photographer and filmmaker Roger Sargent.
The Libertines wrote: "No more teasing… all of these pictures and quotes are taken from a wonderful short film that Roger Sargent made for us ahead of our recent tour. We'll be unveiling the film in full soon, so keep your eyes on the Good Ship Albion as it sets course once again."
See a selection of the images and quotes below:
"We're on a journey; that journey is good ship Albion…" pic.twitter.com/fI9L56LjGC

— Libertines (@libertines) November 22, 2014
"The greatest achievement I've done, basically, needs me to be entwined with him…" pic.twitter.com/LCUHhxC8zc

— Libertines (@libertines) November 22, 2014
Coming soon; @RogerSargo's fantastic short Libertines film. Moving, elegiac and definitely not to be missed… pic.twitter.com/zqSff3BiDd

— Libertines (@libertines) November 22, 2014