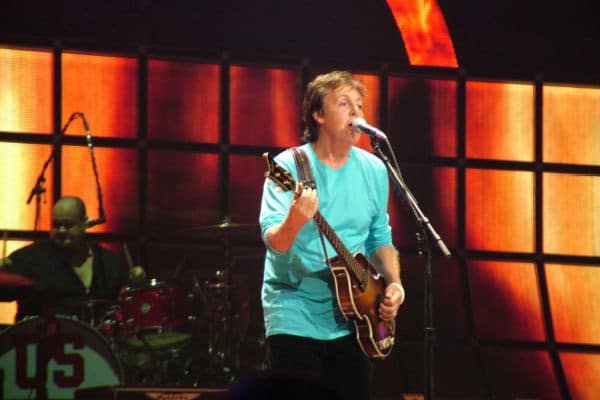 Would you like to listen to the article instead of reading it?
Beatles music legend Paul McCartney has revealed that Artificial Intelligence has enabled him to release a "final" track from the fab four, which will arrive later this year.
In a recent interview, McCartney claimed that he has been able to "extricate" the vocals from the late John Lennon from an old demo tune, allowing to complete the track.
While he remained coy on which track he had been working on, it would appear that 'Now And Then' is the most likely candidate, a song which was originally worked on by John Lennon in 1978.
The suriving members of the Beatles had considered releasing the track as part of their 'Anthology' Series in 1995. However, they later pulled the plug on this idea.
"a beautiful verse"
According to Paul McCartney, 'Now and Then' was omitted from the compilation albums as bandmate George Harrison was not so keen on several technical issues with the original recording.
"It didn't have a very good title, it needed a bit of reworking, but it had a beautiful verse and it had John singing it", McCartney told Q Magazine. "[But] George didn't like it. The Beatles being a democracy, we didn't do it".
The 'Anthology' Series was eventually cleaned up by producer Jeff Lynne. Instead of 'Now And Then', the series did include two other tracks 'Real Love', and 'Free As A Bird'.
The tracks were labelled as the "first" new material to be released by the Beatles in a quarter of a century.
According to Lynne, 'Now And Then' was excluded due to the extensive work needed.
"The song had a chorus but is almost totally lacking in verses. We did the backing track, a rough go that we really didn't finish", Lynne said.
"scary"
Paul McCartney has always been keen to work on this track over the years.
McCartney mentioned a method used by 'Get Back' director Peter Jackson which involves separating a singer's voice from the background noise.
"He [Jackson] was able to extricate John's voice from a ropey little bit of cassette", McCartney said. "We had John's voice and a piano and he could separate them with AI. They tell the machine, 'That's the voice. This is a guitar. Lose the guitar".
"So when we came to make what will be the last Beatles' record, it was a demo that John had [and] we were able to take John's voice and get it pure through this AI. Then we can mix the record, as you would normally do. So it gives you some sort of leeway".
Elsewhere, Paul McCartney admitted that he finds the process of using Artificial Intelligence to make music "scary".
"I'm not on the internet that much [but] people will say to me, 'Oh, yeah, there's a track where John's singing one of my songs', and it's just AI, you know?", he said. "It's kind of scary but exciting, because it's the future. We'll just have to see where that leads".
McCartney did add that this track will be released later this year.
You can also get your hands on the first Beatles-era book published by yours truly, featuring snaps of the band over the years. Find out more here.
Back in March, Peter Gabriel stated that artificial intelligence means that nobody's job is safe in the music industry.