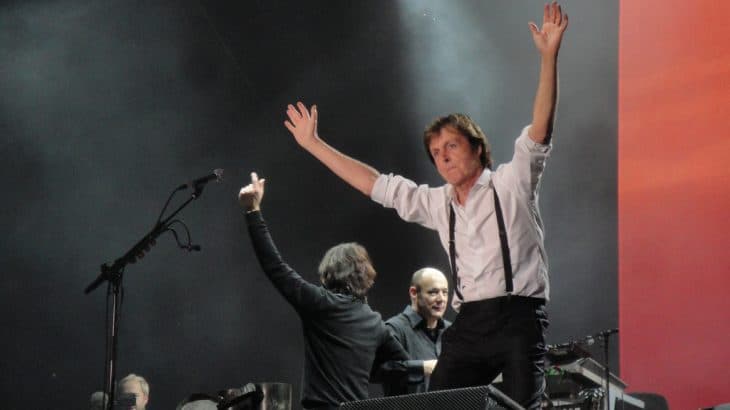 Paul McCartney is making a grand return to music. He is set to release his first album in four years, but no date or album title has been announced. Yet.
He has been busy in the studio the last couple of months working with some of the top producers at the moment. He spoke to BBC6's Matt Everitt about the new album and told him he has been working with Greg Kurstin.
Kurstin is the man behind Adele's latest album, as well Sia and Beck's recent releases.
Referring to the Adele producer, Paul said, "he went on to work with Beck and got Best Album of the Year with Beck. Then he went on to work with Adele and has just got Song of the Year, Record of the Year, with Adele, of course and just got Producer of the Year."
While excited about the new music he's creating with Kurstin, he also fears a backlash from fans. "My only worry is, people are going to go, "Oh there's Paul going with the flavour of the month"".
McCartney spoke about the song writing process he had with John Lennon. He referred the collaboration process as being similar to two sides of a mirror.
'There's a million ways to write, but the way I always used to write was with John and it would be across from each other, either in a hotel bedroom on the twin beds, with an acoustic guitar and we're just looking at each other….It's always my big memory, is seeing John there, him being right-handed, me being left-handed, it felt to me like I was looking in a mirror.'"
Whether there will be an appearance on the album from McCartney's former band mate Ringo Starr remains to be seen. The pair were recently spotted in the studio together as he was doing some recording for Starr's upcoming album. "Thanks for coming over and playing Great bass. I love you man peace and love," the Beatles drummer posted on Twitter with a picture of the pair at his home studio.
McCartney's last album New was released in 2013. The album was executive produced by Giles Martin with help from Mark Ronson.  The album was widely regarded by critics and went platinum in the United States.
Picture Credit: darioferrini