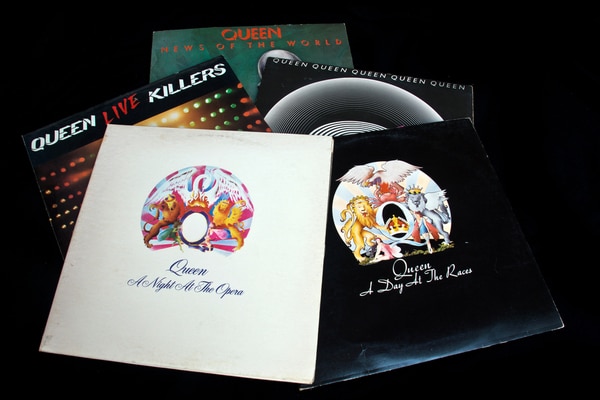 According to daily rock news site, Hennemusic, British rock group Queen are set to rerelease their 2015 vinyl boxset, The Studio Collection. Due to the overwhelming demand of fans, a limited supply of the collection has been remanufactured for a November 12th reissue.
All 15 studio albums will feature on the 18LP half-speed 180g coloured vinyl boxset, which originally sold out completely in 2015. Bob Ludwig remasters classic Queen albums from the original master tapes of their self-titled, 1973 debut album to 1995's, Made In Heaven.
2LP set will include three cracking albums in 1974's Queen II, 1991's Inuendo, and the previously mentioned, Made In Heaven. Also included within this epic boxset lies a lavishly illustrated 12×12", 108-paged hardback book featuring tons of great stuff for fans.
Through an unlimited access to Queen's archive and the personal archives of Brian May, Roger Taylor, and fans, this book is beautifully made. It includes quotes from the band themselves, handwritten lyrics, rare photographs, memorabilia, and information and cool facts on singles and videos. Check out the original trailer for 2015's release in the video below.
The 40th anniversary reissue of 1981's Queen: Greatest Hits has shown the continued demand of fans for Queen vinyl versions, landing top position in the UK Vinyl Album Chart. Continued fan demand will undoubtedly see the limited supply of this boxset reissue sell out very quickly.
Drummer, Roger Taylor recently revealed that he does not know why Queen songwriter, Brian May had "suddenly lost interest" in working on new music with Adam Lambert. During a break in their US tour, the trio had been working on a track in Nashville.
Speaking to Classic Rock in February, Queen guitarist May revealed, that it "was a song that we'd tried to adapt that had come from a friend. It had the makings of being a great song, but we couldn't crack it. We couldn't get there."
Meanwhile, Queen's drummer has recently discussed his upcoming solo album and the possibility of a sequel to hit film Bohemian Rhapsody. Taylor's sixth solo album, Outsider released on October 1st, with the musician embarking on a UK tour a day later.