Would you like to listen to the article instead of reading it?
A team of brave riders are undertaking an epic 72-hour motorbike rally, driving to and photographing each of the 17 Jigsaw services across the country to raise money to fund the essential free, confidential, and non-judgemental early intervention youth mental health services for young people that Jigsaw provide.
From Thursday June 15th to Saturday June 17th two avid bikers from Jigsaw, Damian Sheridan and Daryl D'Art will commence their GRAND TOUR Photo Challenge 2023 along with 6 other motorcyclists, Dave Perry, Tony Golding, Ken McGrevey, Donal Doyle and Mark Sheridan supported by David Fee & Mark O'Riordian in the follow up van.
Jigsaw is a youth mental charity that understands and support young people's mental health through early intervention both online and in person. They give advice and support to help young people aged 12 to 25 years-old and give families, educators, and those who support young people's mental health ways to cope and the skills to be there for young people.
Recent analysis from the Economic and Social Research Institute (ESRI) has shown the stark impact of Covid, with 40% of young men and 55% of young women classified as depressed.
You can show your support by joining PJ & Jim broadcasting Morning Glory live and setting the riders off on their journey from Joe Duffy Motorrad Showroom from 6am on Thursday June 15th where there will be a coffee van, and opportunity to donate and support this amazing cause.
If you would like to donate or sponsor Damian, Daryl and the lads on their epic motorbike challenge then head across to the Jigsaw iDonate page on https://www.idonate.ie/event/grandtourphotorally23
You can also text JIGSAW to 50300 to donate €2 to Jigsaw today to ensure they can provide the mental health services our young people deserve or donate directly to Jigsaw at www.jigsaw.ie/donate
To learn more about Jigsaw and the work they do to support the mental health and wellbeing of young people (aged 12-25) please visit www.jigsaw.ie
We also have a signed Manchester City Jersey by Puma Signed player Jack Grealish to auction off for the good cause.
It comes with a letter of authentication that the Jersey was signed in March while on a photo shoot with the Puma UK/Ireland Marketing team.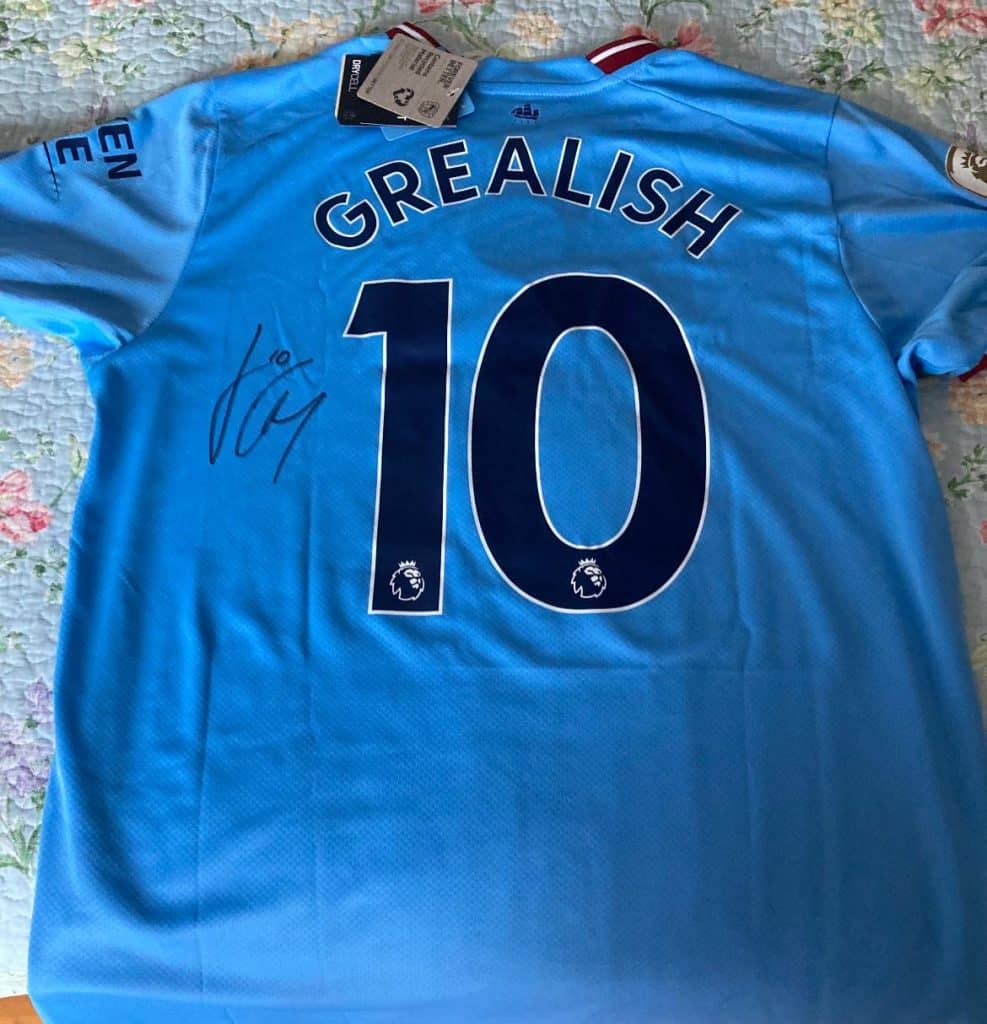 We want to use this to help raise a load of cash for Jigsaw so if you want to make a bid text or Whatsapp us your bid with hashtag #jigsaw to 087 18 18 100. Get in now with your bid!

If you, or someone you know needs mental health support text 50808 – a free and anonymous text support service for moments when you are feeling overwhelmed or having thoughts of suicide and need support to get to a calmer place. Text HELLO to 50808 to start a conversation, any time – day or night.