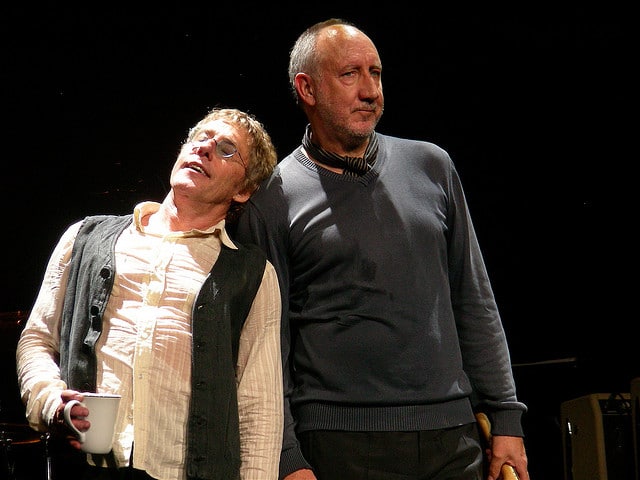 The Who have had to postpone their November concert in the 3Arena and have rescheduled the show for next summer.
A press release from MCD says that the upcoming November gig was moved "due to unforeseen logistical difficulties".
The Who were originally supposed to kick off their 50th anniversary tour in Dublin on November 26th but that date has now been rescheduled for June 23rd in the 3Arena.
The Belfast show has also been changed from November 28th to June 21st at the Odyssey Arena.
Pete Townshend and Roger Daltrey are celebrating 50 years together this year and to commemorate this momentous occasion they are releasing a double-disc record called The Who Hits 50!
The Who Hits 50! is released in November, and features the band's first new music since 2006′s album Endless Wire. The greatest hits release was supposed to coincide with the new tour, which Pete Townshend describes as "hits, picks, mixes and misses".
The band recently released their first single in eight years titled 'Be Lucky,' taken from their upcoming new compilation album.
Listen to the new tune 'Be Lucky' below.
All originally purchased tickets for the November shows are valid for the new dates. Tickets priced from €69.50 (Dublin) and £59.50 (Belfast) including booking fee are on now from Ticketmaster outlets and online at www.ticketmaster.ie
Refunds are available from original point of purchase.
The Who Hits 50! track list:
Disc 1:
01. Zoot Suit (The High Numbers)
02. I Can't Explain
03. Anyway Anyhow Anywhere
04. My Generation
05. Substitute"
06. The Kids Are Alright
07. I'm A Boy
08. Happy Jack
09. Boris The Spider
10. Pictures Of Lily
11. The Last Time
12. I Can See For Miles
13. Call Me Lightning
14. Dogs
15. Magic Bus
16. Pinball Wizard
17. I'm Free
18. The Seeker
19. Summertime Blues (live)
20. See Me, Feel Me
21. Won't Get Fooled Again (single edit)
22. Let's See Action
23. Bargain
24. Behind Blue Eyes
Disc 2
25. Baba O' Riley
26. Join Together
27. Relay
28. 5:15
29. Love Reign O'er Me
30. Postcard
31. Squeeze Box
32. Slip Kid
33. Who Are You
34. Trick Of The Light
35. You Better You Bet
36. Don't Let The Coat
37. Athena
38. Eminence Front
39. It's Hard
40. Real Good Looking Boy
41. It's Not Enough
42. Be Lucky