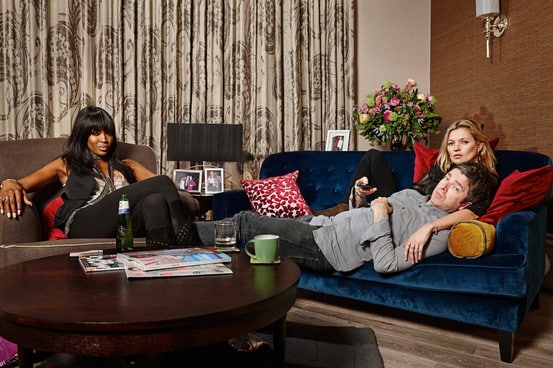 Former Oasis guitarist Noel Gallagher took part in a celebrity version of Channel 4's television show Gogglebox.
Gallagher appeared on the show with two supermodels, Kate Moss and Naomi Campbell, as part of the Stand Up 2 Cancer charity night.
Gogglebox features members of the public sitting in their living rooms and commenting on TV shows as they watch them.
The celebrity trio commented on and reviewed various television programmes including 'Strictly Come Dancing' and 'The X Factor'.
During the course of the show, Gallagher spoke of how Moss regularly stole his food when they lived together many years ago. Noel said she used to steal his crisps and pot noddles.
While the singer watched 'Strictly Come Dancing,' he recalled the time that he danced with Kate Moss at Mick Jagger's house in Mustique. He wasn't impressed by the dancing on the show either saying, "I can do that, piece of piss".
Other celebrities that took part on the show included Miranda Hart, Paul O'Grady and Kathy Burke.
Watch Noel, Naomi and Kate below.
Last week, Gallagher announced details of his new album titled Chasing Yesterday, which will be released on March 2nd 2015, under the name of Noel Gallagher & The High Flying Birds.
The first single is 'In The Heat Of The Moment' and the LP also features Johnny Marr on the track 'Ballad Of The Mighty I'. Gallagher plays the 3Arena on March 4th 2015.
Chasing Yesterday track list:
'Riverman'
'In The Heat Of The Moment'
'The Girl With X-Ray Eyes'
'Lock All The Doors'
'The Dying Of The Light'
'The Right Stuff'
'While The Song Remains The Same'
'The Mexican'
'You Know We Can't Go Back'
'Ballad Of The Mighty I'
'Do The Damage' (Bonus Track)
'Revolution Song' (Bonus Track)
'Freaky Teeth' (Bonus Track)