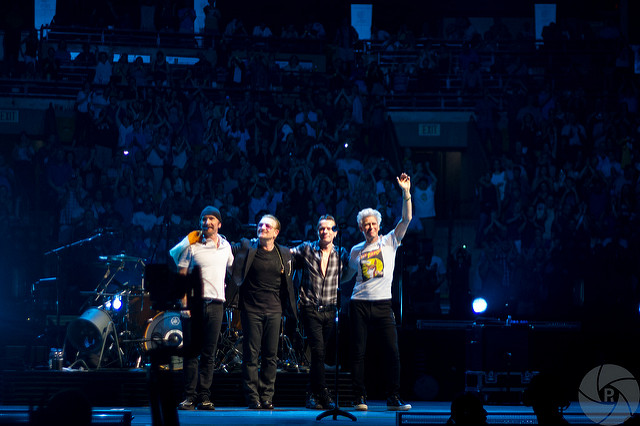 On the 25th of September, it will have been 40 years since U2 formed in a kitchen in Artane.
With over 175 million albums sold globally and 22 Grammy awards to their name, U2 are one of the most successful bands in history.
This Sunday will see 40 years since Larry Mullen posted the famous "Drummer seeks musicians to form band" on a notice board in Mount Temple Comprehensive School in Dublin. The auditions took place in the drummer's house, where David Evans (The Edge), Adam Clayton and Paul Hewson (Bono) were all recruited for 'Larry Mullen Band'.
Originally naming themselves The Hype and Feedback, the band finally settled on U2. They won their first competition in 1978 and signed a record deal in 1980, after recruiting Paul McGuinness to manage them. The band's first album, 'Boy' was released in 1980, followed by three more in the next four years. Their third album, 'War', took Michael Jackson's 'Thriller' off the top spot in the UK Top 40.
In 1987, with a performance at Live Aid under their belt, and growing success in the US, U2 were on their way to becoming the biggest band in the world. Their 1987 album, 'The Joshua Tree' became number one in over 20 countries.
The 1990s saw the band's sound evolve with the release of 1991's 'Achtung Baby'. The tours also evolved throughout the 90s with the ambitious productions of 'Zoo Tv' Tour and 'Popmart'.
The release of 'All The You Can't Leave Behind' in 2000 saw U2's music change once again, with a more stripped back  sound. The band continued to transform their sound and live shows with their '360 tour', which included a giant claw as part of the stage. The tour grossed $736,000,000, which is the highest earning music tour of all time.
U2 continue to break boundaries today. They partnered with Apple when they released  2014's 'Songs of Innocence' for free to everyone with an iPhone.
U2 show no signs of stopping and are due to release a new album, 'Songs of Experience' in 2017, which will also be followed by a world tour.
Photo Cred: Phil Romans