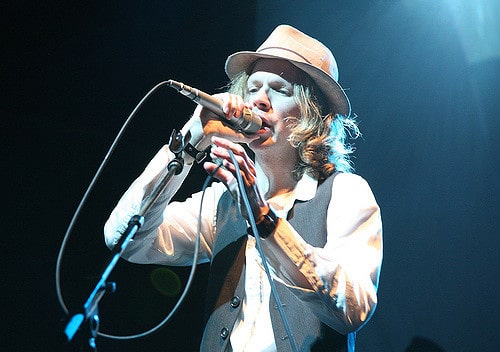 Beck and the remaining members of Nirvana recently teamed up to perform a tribute to David Bowie. At a pre-Grammy party last night they played 'The Man Who Sold The World'.
The new group consisted of Beck on vocals with a backing band of guitarist Pat Smear, bass player Krist Novoselic and Dave Grohl on drums.
The annual party which is hosted by producer Clive Davis, was held last night (February 14th) and saw performances from Fetty Wap, Melissa Etheridge, Barry Manilow, Carly Simon, Earth Wind & Fire, Chicago and Tori Kelly too name a few.
Comedian James Corden hosted the party and joked about the amount of talent in the room, saying "There's more people in this room than have subscribed to Tidal in the past year."
There was another Bowie tribute on the night as well, as Adam Lambert and Jack Antonoff (Fun, Bleachers) ended the show with their take on Bowie's classic floor filler 'Let's Dance'.
You can watch the video of Beck and the remaining members of Nirvana paying tribute to David Bowie with 'A Man Who Sold The World' down below.
1st #PreGRAMMYGala performance is a tribute to David Bowie: @Beck and the living members of Nirvana (@DaveGrohl!) pic.twitter.com/g0SgrRtug5

— Brian A. Hernandez (@BAHjournalist) February 15, 2016
Photo Credit: Scott Beale