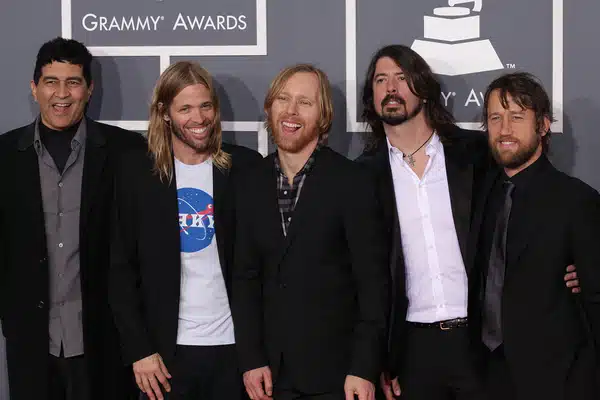 One has always wondered which Foo Fighters band member has the biggest pockets? Is it frontman Dave Grohl, drummer Taylor Hawkins, guitarists Pat Smear and Chris Shiflett or bassist Nate Mendel?
Foo Fighters were formed in 1994 as a one man project by former Nirvana drummer Dave Grohl, following the death of his bandmate and friend Kurt Cobain.
The band have been working hard to create new and unique things to fans. Drummer Taylor Hawkins joined Foos after leaving Alanis Morisette's band back in 1997.
Last March, Dave Grohl revealed that he was amazed that Hawkins took the decision to leave a very successful band, to join him and the Foo Fighters.
"I thought he would never leave Alanis's band. At the time, they were packing stadiums around the world", he said. "And what, he's going to jump in our red Dodge van and play the f***ing Viper Room again? But within the community of musicians, especially in Los Angeles, there's a Rolodex that goes around". More on this here.
The Foo Fighters Rich List
The Foo Fighters rich list is as follows.
Dave Grohl – $320 Million
Taylor Hawkins (drums) – $50 Million
Nate Mendel (bass) – $50 Million
Pat Smear (guitar) – $25 Million
Chris Shiflett (lead guitar) – $45 Million
Rami Jaffee (keyboards) – $5 Million (Only a full time band member since 2017, been a session/touring man for them since 2005)
In more recent times, Foo Fighters have released a trailer for their upcoming movie Studio 666. This film sees the band move into a mansion in California to record a new album. The film also shows Dave Grohl posessed by a supernatural spirit. More on that here.
On the film Dave Grohl added, "Like most things Foo, Studio 666 began with a far fetched idea that blossomed into something bigger than we ever imagined possible".
The synopsis also reads, "In STUDIO 666, the legendary rock band Foo Fighters move into an Encino mansion steeped in grisly rock and roll history to record their much anticipated 10th album. Once in the house, Dave Grohl finds himself grappling with supernatural forces that threaten both the completion of the album and the lives of the band".