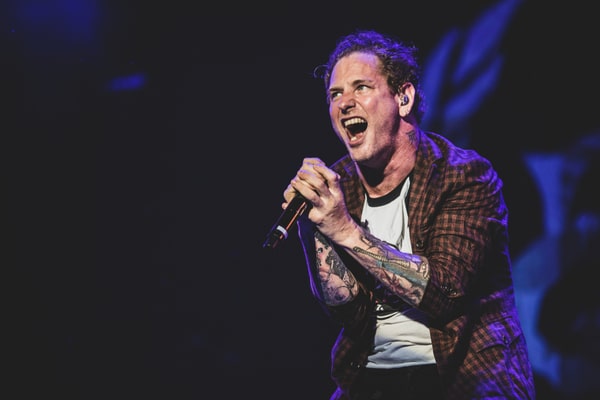 Slipknot's Corey Taylor has tested positive for Covid-19.
Taylor who is also the frontman for Stone Sour confirmed this news in a video message for the Astronomican Facebook page.
The singer had said that he was feeling too ill to perform as part of a scheduled appearance at the pop culture convention in Ann Arbour, Michigan over the weekend.
He was also in the middle of a North American Tour, supporting his solo album "CMFT".
"I wish I had better news" – Taylor
"I wish I had better news", Corey Taylor said looking ill and sounding raspy.
He added that he "woke up today and tested positive, and I'm very, very sick".
"I should be okay", he insisted. "It's just (like) the flu. I'm vaccinated, so I'm not worried".
Taylor also added, "But I certainly wouldn't want to spread it to anyone else. So, everybody be safe out there. And thank you so much. And I will see you again, I promise". 
"signing a deal with the devil"
Corey Taylor also recently had his say on music fans who are opposed to getting the Covid vaccine.
This has caused huge debate and a somewhat divide between figures of the music industry. Some musicians like Eric Clapton for example have said that they will not play at venues were a Covid vaccine is required.
This idea has been rubbished by Queen's Brian May.
While Foo Fighters have also been in the firing line over their performances at venues requiring a jab. 
Here is what Slipknot's Corey Taylor had to say on the subject.
"People act like getting a vaccine is signing a deal with the devil", he said.
"It's been so politicised and spun out of control in these conspiratorial echo chambers that people forget that you can go find all the info you want online to educate yourself about everything about these vaccines".
He also added, "Do I think it should be a requirement for people to be vaccinated to go to shows? Yes and no. Here's the thing: there shouldn't be a mandate, but guess what, man, if you're going to put people at risk of getting sick, you shouldn't want to go to a show. That's common sense. And if you do put people at risk, then you're a fucking asshole, and you shouldn't be let in anyway". 
What are your thoughts on the topic?
Meanwhile earlier this month, Slipknot's Shawn "Clown" Crahan has said that he will continue to wear face masks even if the pandemic ends. More on that here.