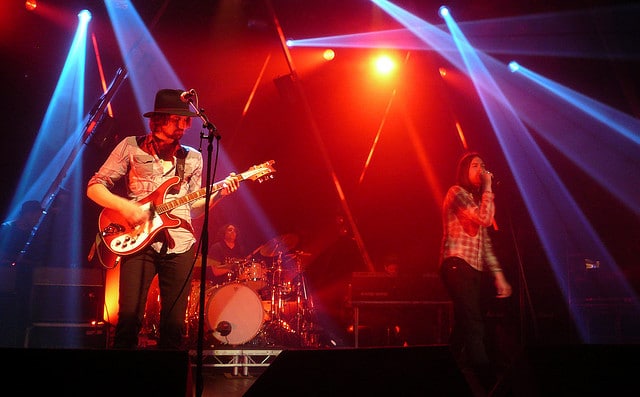 Kasabian, Johnny Marr and Pink Floyd were amongst the winners at the 2014 Q Awards held in London yesterday.
The annual awards and hosted by Absolute Radio's Christian O'Connell, and saw Simple Minds, The Charlatans and Elbow all collecting awards with Kasabian taking the coveted Best Act In The World Today prize.
Kasabian lead the nominations this year, having the chance to collect four awards, with nominations for Best Track 'Eez-eh', Best Album 48:13, Best Act In The World Today and Best Live Act.
Arctic Monkeys had three nominations for Best Video 'Arabella', Best Act In The World Today and having headlined the Reading And Leeds Festivals, they are among the contenders for Best Live Act.
Recent chart toppers Royal Blood were nominated for Best New Act Award. Their self-titled debut went straight into the number 1 spot and the group also achieved the fastest-selling rock debut in three years. Kate Bush, who recently made a comeback to the stage after 35 years, was nominated for two Q Awards.
Q Best Album went to Elbow's The Take Off And Landing Of Everything, Q Hero award was won by The Charlatans, Q Classic Album was awarded to Pink Floyd's Dark Side Of The Moon and The Q Inspiration award went to Simple Minds.
Matt Mason, from Q magazine said, "It's been a remarkable and fascinating 12 months for music, and these nominations are a measure of that. We've had the surprise and brilliance of Kate Bush's return alongside the excitement and invention delivered by all the nominees in the best new act category."
"From the two-man blast of newcomers Royal Blood to headline performances from Kasabian, Arcade Fire and Arctic Monkeys, there have been constant reminders of rock'n'roll's enduring power to knock our socks off. All the nominated acts have helped make 2014 a brilliant year."
Check out the full list of winners below:
Q Best New Act
Sam Smith
Q Maverick
St Vincent
Q Best Track
Paolo Nutini – Iron Sky
Q Best Solo Artist
Ed Sheeran
Q Songwriter
Andy Partridge
Q Best Album
Elbow – The Take Off And Landing Of Everything
Q Best Video
Jamie xx – Sleep Sound
Q Best Live Act
Kasabian
Q Hero
The Charlatans
Q Outstanding Contribution To Music
XL Recordings
Q Inspiration
Simple Minds
Gibson Les Paul Award
Johnny Marr
Q Classic Album
Pink Floyd – Dark Side Of The Moon
Q Innovation In Sound
Jean Michel Jarre
Q Icon
Wilko Johnson
Q Idol
Culture Club
Q Best Act In The World Today
Kasabian