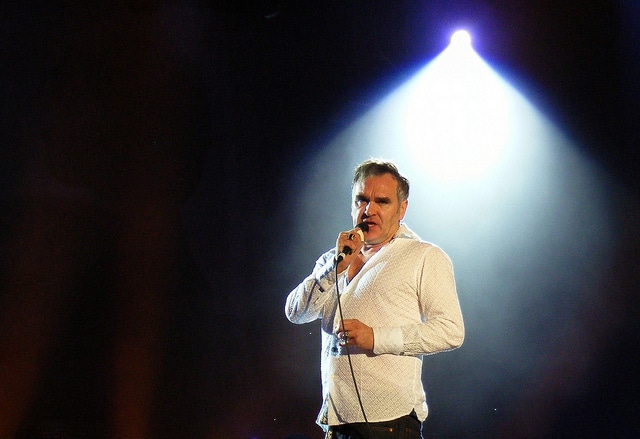 Every gig Morrissey has played on his European tour has been 'eventful', he was performing at The O2 in London, and took the opportunity to unleash a torrent of abuse at his former record label.
The incident in the O2 was a repeat of the stunt the singer pulled at a concert in Lisbon. Morrissey's entire band wore t-shirts with the slogan "F**K HARVEST". The passive-aggressive stunt was aimed at his former record label Harvest Records, with whom he has fought with for most of the year.
His latest LP World Peace Is None Of Your Business featured heavily during the gig. While introducing the track 'World Peace Is None Of Your Business', Moz described it as that album that was "immediately deleted by a very clever record label."
The British monarchy also felt the rath of the singer. He opened the show with The Smiths' 'The Queen Is Dead', with altered pictures of the Queen sticking her middle finger up, as well as having a photo of Prince William and Kate Middleton captioned 'United King-Dumb'.
Morrissey wasn't finished ranting though, he lastly had a go at the poultry industry. Before performing 'Meat Is Murder',  Moz said: "I read the other day that 75% of chicken sold in the UK is contaminated, therefore poisonous – and I thought to myself 'ha ha ha ha'." The speech was accompanied by brutal footage of animal cruelty.
Last week, the singer had to run off the stage because fans began storming the stage trying to hug and kiss him.he was being mobbed by fans. Watch the footage of the stage invasion here.
Morrissey plays Dublin's 3Arena tonight (Monday December 1st), supported by Anna Calvi.