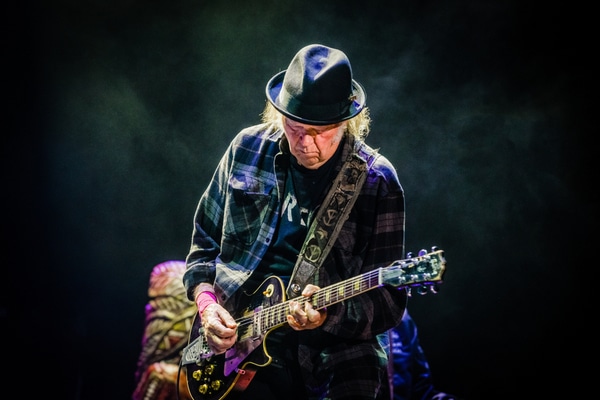 In the latest episode in this ongoing row between Neil Young and Spotify, the country folk singer star has penned and open letter, urging workers to leave the streaming service.
In the letter, Young urges Spotify workers to "get out of that place before it eats up your soul". 
Last month, Young asked for his music to be removed from Spotify following concerns over the spreading of Covid "misinformation" on the service involving the Joe Rogan podcast.
Musicians Graham Nash and his band Crosby, Stills & Nash have also asked to leave Spotify, in support of Young.
Young Urges People To "Ditch the misinformers"
In a statement posted to his website yesterday (February 7), Young had this to say.
"In our communication age, misinformation is the problem", he wrote. "Ditch the misinformers. Find a good clean place to support with your monthly checks. You have the real power. Use it". 
Young continued, "To the baby boomers, I say 70 percent of the country's financial assets are in your hands compared with just about five percent for millennials. You and I need to lead". 
"Join me as I move my money away from the damage causers or you will unintentionally be one of them. You have the power to change the world. We can do it together. Your grandchildren will thank you in history". 
"To the musicians and creators in the world, I say this: You must be able to find a better place than Spotify to be the home of your art. To the workers at Spotify, I say Daniel Ek is your big problem – not Joe Rogan. Ek pulls the strings. Get out of that place before it eats up your soul. The only goals stated by Ek are about numbers – not art, not creativity". 
"Notice that Ek never mentions the medical professionals who started this conversation. Look, one last time at the statements Ek has made. Then be free and take the good path".
On top of this, Young also blasted American banks including Citi, Wells Fargo, Chase and Bank of America. He blasted their "continued funding of the fossil fuel damage even as the global temperature keeps climbing". 
He has also urged fans to withdraw their support for the streaming service. Spotify have already lost 19% of their subscriptions in the passed week since this saga began.