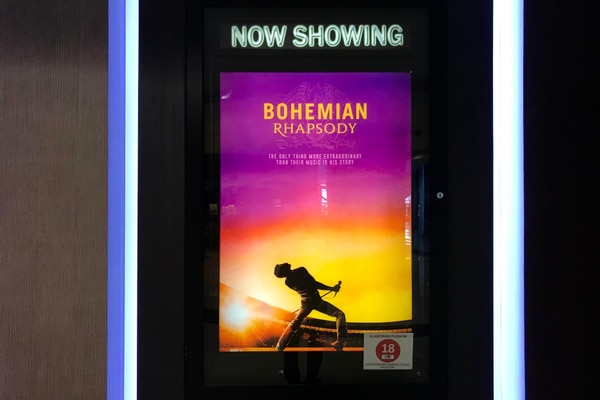 It has been reported that Queen are making a daily profit of £100,000 from Freddie Mercury's biopic Bohemian Rhapsody.
Released in 2018, Bohemian Rhapsody starring Rami Malek, divided fans and critics. It explored the late frontman's childhood, joining Queen and his latter pursuit of a solo career.
The new accounts from Custom's House said that the film made $900 million (£654 million) at the box office at the time of writing. Mercury's estate, along with Brian May, Roger Taylor and John Deacon are seeking a big chunk of that money.
It was also reported that the band filed profits of £11.8 million pre-tax, with a £21.9 million turnover.
However, following the biopic's release, Queen Productions registered a turnover of £42 million in the 12 months dated to September 2020 which makes over £19 million pre-tax.
As for the track itself, Bohemian Rhapsody was recently ranked among the most popular tracks to sing at a karaoke. 
Queen's take on a Bohemiam Rhapsody sequel
In May 2020, Brian May said that a Bohemian Rhapsody sequel is not on the cards for Queen.
"Don't think we didn't think about it. We've talked", May said at the time. "Basically we think not, at the moment. Things could change, I suppose, but I think it would be difficult. I don't think that would be an uplifting thing to do. I'm not saying it's impossible because there is a great story there, but we don't feel that's the story we want to tell at the moment".
Find out more about that story here.
Queen drummer, Roger Taylor reiterated May's remarks. He also said that a sequel to Bohemian Rhapsody is unlikely to happen.
"I have to say no", Taylor said. "I really do think that we need to sit back for a year or two and look at things and see if that is a believable or credible thing to do". 
He also added, "The movie was a great hit. We were delighted, obviously. But I think I wouldn't want to be seen as cashing in again. I'd have to have a very, very good script and scenario to make that work. Right now, I can't think of a way of doing a sequel". 
This year marks 50 years since Queen were formed, a milestone which Brian May admitted back in April of this year that it is difficult to completely enjoy without Freddie Mercury who passed away in 1991. More on that here.
In that same month, Brian May revealed that he and Roger Taylor almost quit Queen.
Tune into Radio Nova at 5pm as Marty Miller takes us on a journey of Queen's life and career as one of the greatest rock bands of all time.