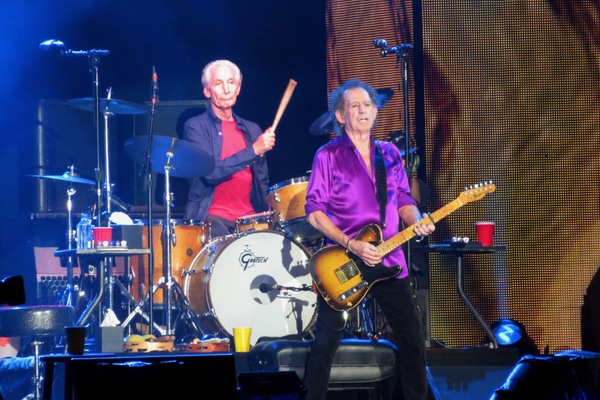 Keith Richards has said that the Rolling Stones have no plans to sell their publishing.
This comes after the guitarist had already revealed that the band have plans to work on new songs in the near future.
His latest comments have arisen after the likes of Bob Dylan, Bruce Springsteen and Stevie Nicks agreed to sell their publising rights to companies.
This interview also saw Richards speak about the great "shock" that was losing his bandmate Charlie Watts. Watts passed away last August aged 80.
"don't know if we're ready to sell" 
Speaking to CBS This Morning, Keith Richards has said that plans to sell Stones back catalogue are not on the horizon.
"Mick and I have not spoken about it on a serious level", Richards said. "I don't know if we're ready to sell our catalogue".
He added, "We might drag it out a bit, put some more stuff in it. The only thing about selling your catalogue…it's a sign of getting old". 
Reflecting on Charlie Watts' death, Keith Richards had this to say.
"I think he tried to keep [his health] under the wraps last year", he revealed. "It came as quite a shock. He had had a round with cancer a year or two before, but he beat that one. He just got hit with a double whammy, bless his soul". 
Richards even admitted that the band considered cancelling their No Filter Tour following Watts' death.
"I think Charlie wanted us to go on the road", he said. "He wanted the tour to happen. That was my feeling the last time I spoke with him". 
However, the show must go on and the band continued their No Filter Tour and Steve Jordan replaced Charlie Watts as drummer, while the band also paid a special tribute to Charlie Watts. Check out the tribute from the Nova report here.
Keith Richards also recently revealed how he managed to quit smoking. 
Meanwhile, the Rolling Stones also confirmed dates for a 60th anniversary UK Tour. 
The Stones just keep on rolling! We are thrilled to announce the Rolling Stones 2022 Tour! Titled SIXTY to celebrate 60 special years together-Mick, Keith & Ronnie will be playing dates across Europe this summer including 2 shows at London's BST Hyde Park:https://t.co/cimRWrDl07 pic.twitter.com/qQDZfDc96K

— The Rolling Stones (@RollingStones) March 14, 2022