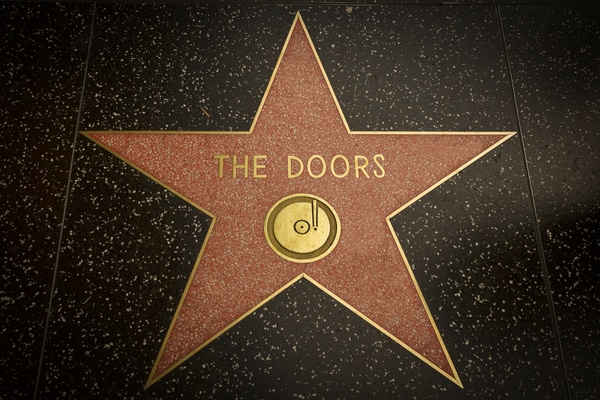 The Doors have announced a special 50th anniversary deluxe edition of "L.A Women". This was the last album to feature the late Jim Morrison.
This deluxe edition will feature three CDs and one LP. It also includes the original LA Women remastered by the Doors' long time engineer Bruce Botnick.
The deluxe edition also contains two bonus discs which contain over two hours of unreleased outtakes, along with a 180 gram virgin vinyl with a stereo mix of the album.
Originally released in 1971, the album went on to reach number 9 in the Billboard 200 and sold over 2 million copies worldwide.
Fans Pay Tribute To Jim Morrison On 50th Anniversary Of His Death
The Doors demo "Riders on the storm"
The Doors are also previewing the album's 50th anniversary deluxe edition with an original demo of "Riders on the storm". This was recently found in an unmarked reel in the band's vault of archives which had been for decades presumed lost.
Check it out here.
The band had cut the track during their early sessions at Sunset Sound Studios. It was produced by Paul A. Rothchild.
Rothchild was not keen on the track, referring to it as "cocktail music". He eventually pulled out of the record, leaving the band to work on the album with Botnick.
"We were giving Paul a preview and he was bored. We played the songs very badly – with Jim – but there was no chi, no energy,", said the Doors' keyboardist Ray Manzarek.
He also added, "We didn't want to be back in [Sunset Sound], and Paul couldn't bring us back to life. In that instant he was right. As soon as he left the room, that's when L.A. Woman started".
The Doors, 'L.A. Woman' 50th-Anniversary Deluxe Edition Track Listing
Disc One: Original Stereo Mix Remastered
1. "The Changeling"
2. "Love Her Madly"
3. "Been Down So Long"
4. "Cars Hiss By My Window"
5. "L.A. Woman"
6. "L'America"
7. "Hyacinth House"
8. "Crawling King Snake"
9. "The WASP (Texas Radio And The Big Beat)"
10. "Riders On The Storm"
Bonus Tracks
11. "Hyacinth House" – Demo
12. "Riders On The Storm" – Sunset Sound Version – Original Demo*
Disc Two: 'L.A. Woman' Sessions, Part 1
1. "The Changeling" *
2. "Love Her Madly" *
3. "Riders On The Storm" *
4. "L.A. Woman" (Part 1) *
Disc Three: 'L.A. Woman' Sessions, Part 2
1. "L.A. Woman" (Part 2) *
2. "She Smells So Nice" *
3. "Rock Me Baby" *
4. "Mr. Mojo Risin'" *
5. "Baby Please Don't Go" *
6. "L.A. Woman" (Part 3) *
7. "Been Down So Long" *
8. "Get Out Of My Life Woman" *
9. "Crawling King Snake" *
10. "The Bastard Son Of Jimmy & Mama Reed (Cars Hiss By My Window)" *
11. "Been Down So Long" *
12. "Mystery Train" *
13. "The WASP (Texas Radio And The Big Beat)" *