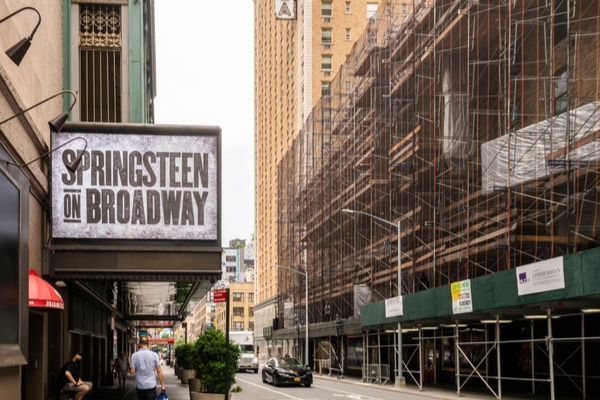 Bruce Springsteen kicked off the return of his Broadway show over the weekend (June 26). During the performance The Boss even joked about his drink driving arrest from last November.
The Glory Days singer was arrested for driving under the influence of alcohol at a national park in New Jersey. More on that story here.
This arrest subsequently led to to Jeep suspending their advert featuring Springsteen last February. A spokesperson for the company said that drinking and driving can "never be condoned". More on that here. 
However, a source close to the singer said that "serious doubts about the seriousness of this, especially when the actual details of this are revealed, including the blood alcohol level".
Later on that same month, the charges were ultimately dropped against Springsteen, after it was confirmed that his blood-alcohol level was too low to warrant the charges of drink driving and wreckless driving. 
Springsteen had already pleaded guilty to the charge of consuming alcohol in a closed area and was fined $540 (£382).
"I think I'll drive to jail"
And now, speaking about the incident whilst on stage during the return of his Broadway show, Springsteen had this to say.
"I didn't wake up one morning, get on my motorcycle and say, 'I think I'll drive to jail", he joked.
"And then I had to go to Zoom Court!", he added. "My case was the United States of America vs. Bruce Springsteen. That's always comfortable to hear, that the entire nation is aligned against you!". 
Springsteen also sarcastically recited the charges that were brought against him.
'You have managed to engage in an act so heinous that it has offended the entire fuckin' United States! You, my recalcitrant, law-breaking, bridge-and-tunnel friend have drunk two shots of tequila!". 
As for the show itself, Springsteen made changes to the setlist heard during the intial run of the show. He replaced "Tougher Than The Rest" with "Fire". He also added "I'll See You In My Dreams" in place of "Born To Run", and "American Skin (41 Shots)" in place of "The Ghost Of Tom Joad".
Springsteen on Broadway Vaccince controversy 
Earlier this month, it was confirmed that Springsteen On Broadway would be making a return. More on that report here.
Ahead of the show, it had been announced that people who received the AstraZeneca vaccine would not be granted access for the shows as it was not approved by the FDA.
However a statement from Jujamcyn, the owners of St James Theater, said that "amended New York guidelines" would allow fans to attend these shows who had received the AstraZeneca jab. More on that here.
The show received a rave reception with Springsteen mobbed as he left the stage.